Acer Intros Chromebook Powered by AMD A-Series Processors with Radeon Graphics
Acer has expanded its line of 15.6-inch Chromebooks with its first AMD-based Chromebook, the Acer Chromebook 315. The new devices are powered by 7th Gen AMD A6-9220C or A4-9120C processors with Radeon graphics.
In addition to superior performance, the Acer Chromebook 315 has a Full HD 15.6-inch IPS display that is productivity-boosting for work and school. It vibrantly displays streaming video, web games and apps, and it's available in touch-screen and non-touch configurations (CB315-2HT/CB315-2H).
"The 15.6-inch Chromebook has been one of the cornerstones of the Acer Chromebook line," said James Lin, General Manager, Commercial and Detachable Notebooks, IT Products Business, Acer Inc. "The Acer Chromebook 315 builds on the line's core attributes — a huge 15.6-inch display, great speakers and a stylish design — to now include new AMD processors and Radeon graphics that will effortlessly power the growing selection of Chrome and Android™ apps that have been embraced by so many students, families and business users."
The Acer Chromebook 315 is powered by 7th Gen AMD A-Series processors with Radeon graphics to provide fast and efficient computing in two configurations; either featuring the AMD A6-9220C APU or A4-9120C APU in a system-on-chip design. The new AMD A-Series processors for Chromebooks enable customers to stream video, run the latest apps, play web games and browse the Internet effortlessly for up to 10 hours1. Plus, the Acer Chromebook 315 supports millions of Android apps on Google Play™ for entertainment, productivity, connectivity and more.
"We are proud to expand AMD's portfolio of products to include AMD-powered Chromebooks," said Saeid Moshkelani, Senior Vice President and General Manager, Client Compute, AMD. "The new Acer Chromebook 315 powered by AMD A-series processors will allow consumers to do more in less time while enjoying some of the best Chromebook experiences. In partnership with Google and Acer, AMD-powered Chromebooks will deliver first-rate entertainment and premium productivity features, as well as best-in-class design to the Chromebook market."
The clear and vibrant 15.6-inch Full HD 1920 x 1080 display is large enough for opening browsers side-by-side, viewing streaming video in sharp detail, and playing web games. Customers can be productive with more viewing real estate and the power to run multiple tabs and apps. The IPS display lets users easily present slide shows and share content thanks to its wide 178-degree viewing angles. Even video chats can be shared. The HD webcam has a wide 88-degree field-of-view to accommodate groups. In addition, audio and video are crystal clear thanks to high dynamic range imaging and the built-in microphone.
Clear and crisp audio is the result of the Acer Chromebook 315's two full-sized upward-facing speakers that flank the keyboard. The speakers support high-definition audio and deliver enhanced volume and audio range. The Acer Chromebook 315's large size means there's also room for a full-sized, backlit keyboard on touch-screen models, and a large touchpad.
The design makes room for ample connections on the Acer Chromebook 315. There are two USB Type-C Gen 1 ports — one on each side of the device — to allow fast data transfers, charging and display output from whichever side is most convenient. It features fast WiFi 802.11ac wireless featuring 2×2 MIMO technology. Customers can connect peripherals via Bluetooth 4.2, two USB 3.0 ports and the combo headphone and speaker jack.
The Acer Chromebook 315 features a stylish IMR top cover and palm rest that are durable and light enough for moving around the home or office. It weighs 1.72 kg (3.79 pounds) while measuring 380.54 W x 256.28 D x 19.95 H mm (14.98 W x 10.09 D x 0.79 H inches).
The new Acer Chromebook 315 is not only easy to use, but also easy to share with multiple users. Users simply log into their Google account to access Gmail, Google Docs, apps, extensions, bookmarks, and more. Chromebooks run on Google's Chrome OS platform that updates automatically and uses multiple levels of security to guard against ever-changing online threats.
With the new Family Link app on Chromebooks, it's easy for parents to set digital ground rules as their kids are exploring the Internet. Parents can set daily screen time limits, customize the list of websites and apps their children can use, and even manage their child's Google account and remotely lock supervised accounts on the Acer Chromebook 315.
The Acer Chromebook 315 will be available with either a touch screen display (CB315-2HT) or non-touch display (CB315-2H) with up to 8GB of RAM and 32GB of eMMC storage.
'Black Panther' and its Science Role Models Inspire More Than Just Movie Awards
Written by Clifford Johnson, University of Southern California – Dornsife College of Letters, Arts and Sciences
It has been said many times that the Marvel movie "Black Panther" is an important landmark. I'm not referring to its deserved critical and box office success worldwide, the many awards it has won, or the fact that it is the first film in the superhero genre to be nominated for best picture at the Academy Awards.
Instead, I'm focusing on a key aspect of its cultural impact that is less frequently discussed. Finally a feature film starring a black superhero character became part of the Marvel Cinematic Universe – a successful run of intertwined movies that began with "Iron Man" in 2008. While there have been other superhero movies with a black lead character – "Hancock" (2008), "Blade" (1998), "Spawn" (1997) or even "The Meteor Man" (1993) – this film is significant because of the recent remarkable rise of the superhero film from the nerdish fringe to part of mainstream culture.
Huge audiences saw a black lead character – not a sidekick or part of a team – in a superhero movie by a major studio, with a black director (Ryan Coogler), black writers and a majority black cast. This is a significant step toward diversifying our culture by improving the lackluster representation of minorities in our major media. It's also a filmmaking landmark because black creators have been given access to the resources and platforms needed to bring different storytelling perspectives into our mainstream culture.
2017's "Wonder Woman" forged a similar path. In that case, a major studio finally decided to commit resources to a superhero film headlined by a female character and directed by a woman, Patty Jenkins. Female directors are a minority in the movie industry. Jenkins brought a new perspective to this kind of action movie, and there was a huge positive response from audiences in theaters worldwide.
And beyond all this, "Black Panther" also broke additional ground in a way most people may not realize: In the comics, the character is actually a scientist and engineer. Moreover, in the inevitable (and somewhat ridiculous) ranking of scientific prowess that happens in the comic book world, he's been portrayed as at least the equal of the two most famous "top scientists" in the Marvel universe: Tony Stark (Iron Man) and Reed Richards (Mr. Fantastic). A black headlining superhero character written and directed by black artists is rare enough from a major studio. But making him – and his sister Shuri – successful scientists and engineers as well is another level of rarity.
Scientists On Screen
I'm a scientist who cares about increased engagement with science by the general public. I've worked as a science adviser on many film and TV projects (though not "Black Panther"). When the opportunity arises, I've helped broaden the diversity of scientist characters portrayed onscreen.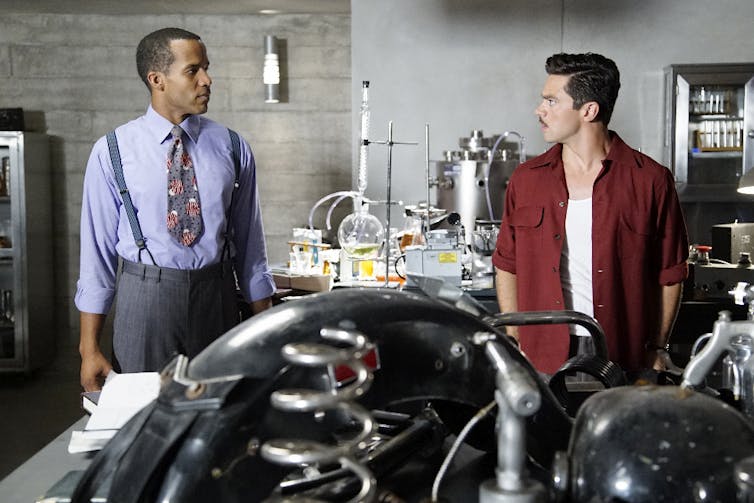 I've also recently published a nonfiction graphic book for general audiences called "The Dialogues: Conversations about the Nature of the Universe." Its characters include male and female black scientists, discussing aspects of my own field of theoretical physics – where black scientists are unfortunately very rare. So the opportunity that the "Black Panther" movie presents to inform and inspire vast audiences is of great interest to me.
The history and evolution of the Black Panther character and his scientific back story is a fascinating example of turning a problematic past into a positive opportunity. Created in 1966 by Stan Lee and Jack Kirby, he's the first black superhero character in mainstream comics, originally appearing as a guest in a "Fantastic Four" Marvel comic. As a black character created and initially written by nonblack authors, guest-starring in the pages of a book headlined by white characters, he had many of the classic attributes of what is now sometimes controversially known as the "magical negro" in American cultural criticism: He ranked extremely highly in every sphere that mattered, to the point of being almost too unreal even for the comics of the time.
Black Panther is T'Challa, king of the fictional African country Wakanda, which is fathomlessly wealthy and remarkably advanced, scientifically and technologically. Even Marvel's legendary master scientist – Reed Richards of the superhero team Fantastic Four – is befuddled by and full of admiration for Wakanda's scientific capabilities. T'Challa himself is portrayed as an extraordinary "genius" in physics and other scientific fields, a peerless tactician, a remarkable athlete and a master of numerous forms of martial arts. And he is noble to a fault. Of course, he grows to become a powerful ally of the Fantastic Four and other Marvel superheroes over many adventures.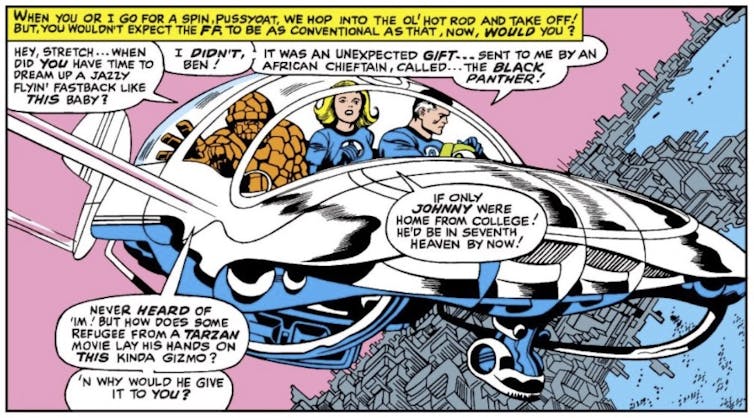 The key point here is that the superlative scientific ability of our hero, and that of his country, has its origins in the well-meaning, but problematic, practice of inventing near or beyond perfect black characters to support stories starring primarily white protagonists. But this is a lemons-to-lemonade story.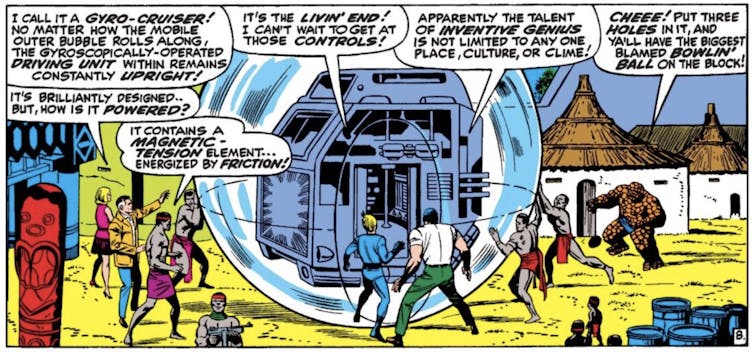 Black Panther eventually got to star in his own series of comics. He was turned into a nuanced and complex character, moving well away from the tropes of his beginnings. Writer Don McGregor's work started this development as early as 1973, but Black Panther's journey to the multilayered character you see on screen was greatly advanced by the efforts of several writers with diverse perspectives. Perhaps most notably, in the context of the film, these include Christopher Priest (late 1990s) and Ta-Nehisi Coates (starting in 2016), along with Roxane Gay and Yona Harvey, writing in "World of Wakanda" (2016). Coates and Gay, already best-selling literary writers before coming to the character, helped bring him to wider attention beyond normal comic book fandom, partly paving the way for the movie.
Through all of the improved writing of T'Challa and his world, his spectacular scientific ability has remained prominent. Wakanda continues to be a successful African nation with astonishing science and technology. Furthermore, and very importantly, T'Challa is not portrayed as an anomaly among his people in this regard. There are many great scientists and engineers in the Wakanda of the comics, including his sister Shuri. In some accounts, she (in the continued scientist-ranking business of comics) is an even greater intellect than he is. In the movie, T'Challa's science and engineering abilities are referred to, but it is his sister Shuri who takes center stage in this role, having taken over to design the new tools and weapons he uses in the field. She also uses Wakandan science to heal wounds that would have been fatal elsewhere in the world.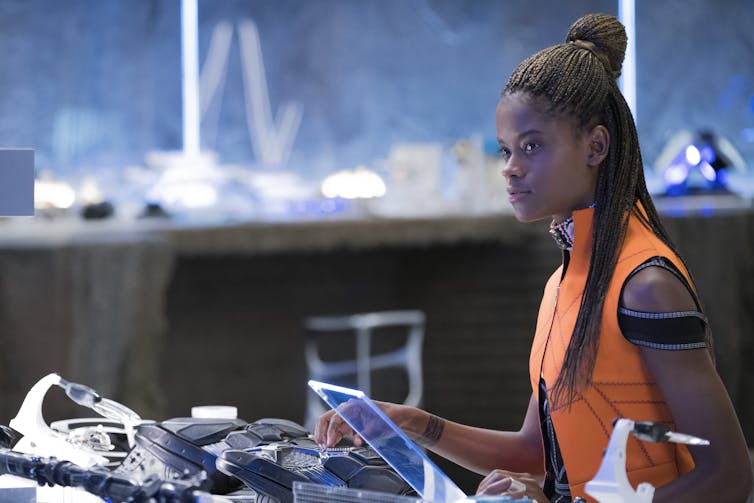 If They Can Do It, Then Why Not Me?
As a scientist who cares about inspiring more people – including underrepresented minorities and women – to engage with science, I think that showing a little of this scientific landscape in "Black Panther" potentially amplifies the movie's cultural impact.
Vast audiences see black heroes – both men and women – using their scientific ability to solve problems and make their way in the world, at an unrivaled level. Research has shown that such representation can have a positive effect on the interests, outlook and career trajectories of viewers.
Improving science education for all is a core endeavor in a nation's competitiveness and overall health, but outcomes are limited if people aren't inspired to take an interest in science in the first place. There simply are not enough images of black scientists – male or female – in our media and entertainment to help inspire. Many people from underrepresented groups end up genuinely believing that scientific investigation is not a career path open to them.
Moreover, many people still see the dedication and study needed to excel in science as "nerdy." A cultural injection of Black Panther heroics helps continue to erode the crumbling tropes that science is only for white men or reserved for people with a special "science gene."
The huge widespread success of the "Black Panther" movie, showcasing T'Challa, Shuri and other Wakandans as highly accomplished scientists, remains one of the most significant boosts for science engagement in recent times.
TP-Link to Showcase Neffos X20 and X20 Pro at MWC 2019
Neffos, TP-Link's sub-brand for smartphones, will be exhibiting at the Mobile World Congress 2019 in Barcelona, Spain, on February 25. The theme for the year's biggest technology convention for mobile products and innovations is intelligent connectivity, which is in line with TP-Link's slogan of "Faster Wi-Fi, Better Signal Phone, Smarter Home."
At the MWC 2019 tech show, Neffos will display Neffos P1 as well with a built-in projector feature for beaming HD content onto a large wall. Neffos P1, which adds a laser projector that can throw a picture as large as 200 inches wide onto a wall or any flat surface in high resolution.
For the first time, the company will also showcase its new Neffos X20 and X20 Pro flagship phones. The two models are expected to hit the market sometime in June, along with Neffos' own NFUI 9.0 software based on the Android 9.0 Pie operating system. As NFUI 9.0 hasn't launched yet, the X20 and X20 Pro will be the first devices to run the latest user interface out of the box.
OPPO's VOOC Charging System Gets TÜV Rheinland's Certification
OPPO has received a new safety certification for its proprietary flash charging technology known as VOOC, which can charge a flat smartphone batter up to 40% in just 10 minutes. "The company recognizes that fast charging is now one of the most important demands from smartphone users globally who want a device that can fully charge in minutes, not hours," said the company in a statement.
OPPO's VOOC flash charging uses a special adapter and cables to charge devices safely at 25W without overheating—far above the industry standard. The company also offers a Super VOOC system that boosts the charging power to a massive 50W, capable of charging a flat battery to a full charge in just 35 minutes. Most high-end smartphones today take around 2 hours to fully charge.
The latest certification from renowned international safety authority TÜV Rheinland acknowledges that OPPO's VOOC charging system has undergone rigorous testing across multiple sessions and test cycles to ensure its safety for daily usage. The VOOC system also allows users to safely use their smartphone during charging without it overheating.
OPPO's VOOC flash charge technology is already used in more than 100 million smartphones worldwide including several models available in the Middle East today. The system is featured in OPPO's flagship premium handset, the OPPO Find X, as well as its mid to high-end OPPO R17 and R17 Pro devices.
"Such innovations will continue as OPPO plans to raise its global R&D investments to around $1.43 billion in 2019, a 150% year-on-year increase," said the company.