'Black Panther' and its Science Role Models Inspire More Than Just Movie Awards
Written by Clifford Johnson, University of Southern California – Dornsife College of Letters, Arts and Sciences
It has been said many times that the Marvel movie "Black Panther" is an important landmark. I'm not referring to its deserved critical and box office success worldwide, the many awards it has won, or the fact that it is the first film in the superhero genre to be nominated for best picture at the Academy Awards.
Instead, I'm focusing on a key aspect of its cultural impact that is less frequently discussed. Finally a feature film starring a black superhero character became part of the Marvel Cinematic Universe – a successful run of intertwined movies that began with "Iron Man" in 2008. While there have been other superhero movies with a black lead character – "Hancock" (2008), "Blade" (1998), "Spawn" (1997) or even "The Meteor Man" (1993) – this film is significant because of the recent remarkable rise of the superhero film from the nerdish fringe to part of mainstream culture.
Huge audiences saw a black lead character – not a sidekick or part of a team – in a superhero movie by a major studio, with a black director (Ryan Coogler), black writers and a majority black cast. This is a significant step toward diversifying our culture by improving the lackluster representation of minorities in our major media. It's also a filmmaking landmark because black creators have been given access to the resources and platforms needed to bring different storytelling perspectives into our mainstream culture.
2017's "Wonder Woman" forged a similar path. In that case, a major studio finally decided to commit resources to a superhero film headlined by a female character and directed by a woman, Patty Jenkins. Female directors are a minority in the movie industry. Jenkins brought a new perspective to this kind of action movie, and there was a huge positive response from audiences in theaters worldwide.
And beyond all this, "Black Panther" also broke additional ground in a way most people may not realize: In the comics, the character is actually a scientist and engineer. Moreover, in the inevitable (and somewhat ridiculous) ranking of scientific prowess that happens in the comic book world, he's been portrayed as at least the equal of the two most famous "top scientists" in the Marvel universe: Tony Stark (Iron Man) and Reed Richards (Mr. Fantastic). A black headlining superhero character written and directed by black artists is rare enough from a major studio. But making him – and his sister Shuri – successful scientists and engineers as well is another level of rarity.
Scientists On Screen
I'm a scientist who cares about increased engagement with science by the general public. I've worked as a science adviser on many film and TV projects (though not "Black Panther"). When the opportunity arises, I've helped broaden the diversity of scientist characters portrayed onscreen.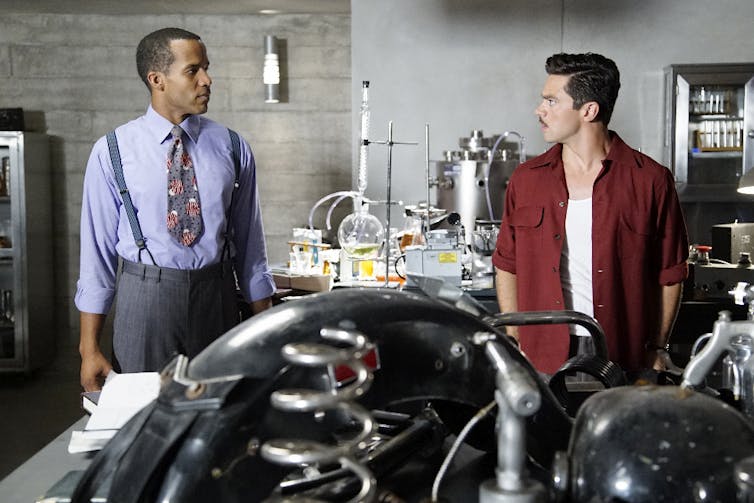 I've also recently published a nonfiction graphic book for general audiences called "The Dialogues: Conversations about the Nature of the Universe." Its characters include male and female black scientists, discussing aspects of my own field of theoretical physics – where black scientists are unfortunately very rare. So the opportunity that the "Black Panther" movie presents to inform and inspire vast audiences is of great interest to me.
The history and evolution of the Black Panther character and his scientific back story is a fascinating example of turning a problematic past into a positive opportunity. Created in 1966 by Stan Lee and Jack Kirby, he's the first black superhero character in mainstream comics, originally appearing as a guest in a "Fantastic Four" Marvel comic. As a black character created and initially written by nonblack authors, guest-starring in the pages of a book headlined by white characters, he had many of the classic attributes of what is now sometimes controversially known as the "magical negro" in American cultural criticism: He ranked extremely highly in every sphere that mattered, to the point of being almost too unreal even for the comics of the time.
Black Panther is T'Challa, king of the fictional African country Wakanda, which is fathomlessly wealthy and remarkably advanced, scientifically and technologically. Even Marvel's legendary master scientist – Reed Richards of the superhero team Fantastic Four – is befuddled by and full of admiration for Wakanda's scientific capabilities. T'Challa himself is portrayed as an extraordinary "genius" in physics and other scientific fields, a peerless tactician, a remarkable athlete and a master of numerous forms of martial arts. And he is noble to a fault. Of course, he grows to become a powerful ally of the Fantastic Four and other Marvel superheroes over many adventures.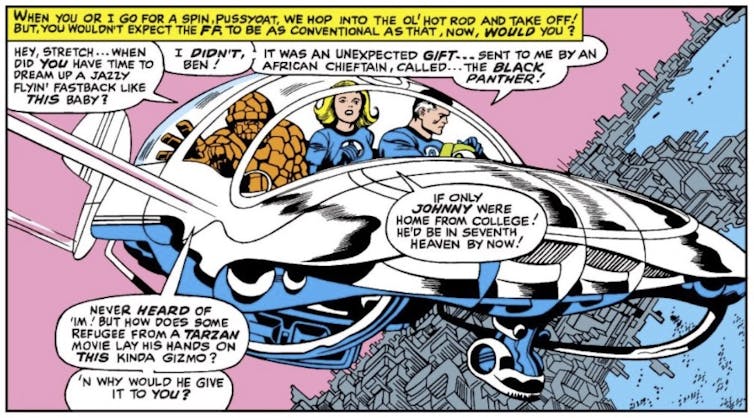 The key point here is that the superlative scientific ability of our hero, and that of his country, has its origins in the well-meaning, but problematic, practice of inventing near or beyond perfect black characters to support stories starring primarily white protagonists. But this is a lemons-to-lemonade story.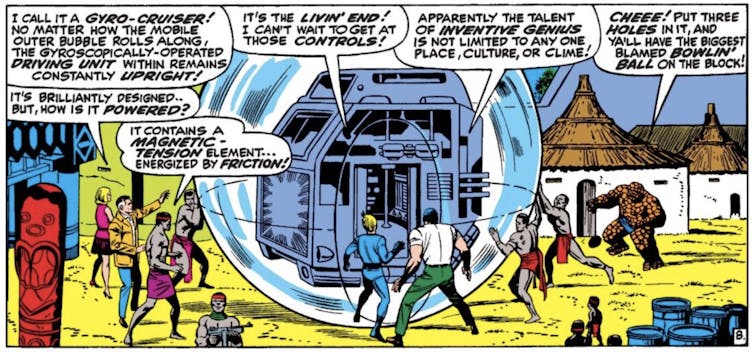 Black Panther eventually got to star in his own series of comics. He was turned into a nuanced and complex character, moving well away from the tropes of his beginnings. Writer Don McGregor's work started this development as early as 1973, but Black Panther's journey to the multilayered character you see on screen was greatly advanced by the efforts of several writers with diverse perspectives. Perhaps most notably, in the context of the film, these include Christopher Priest (late 1990s) and Ta-Nehisi Coates (starting in 2016), along with Roxane Gay and Yona Harvey, writing in "World of Wakanda" (2016). Coates and Gay, already best-selling literary writers before coming to the character, helped bring him to wider attention beyond normal comic book fandom, partly paving the way for the movie.
Through all of the improved writing of T'Challa and his world, his spectacular scientific ability has remained prominent. Wakanda continues to be a successful African nation with astonishing science and technology. Furthermore, and very importantly, T'Challa is not portrayed as an anomaly among his people in this regard. There are many great scientists and engineers in the Wakanda of the comics, including his sister Shuri. In some accounts, she (in the continued scientist-ranking business of comics) is an even greater intellect than he is. In the movie, T'Challa's science and engineering abilities are referred to, but it is his sister Shuri who takes center stage in this role, having taken over to design the new tools and weapons he uses in the field. She also uses Wakandan science to heal wounds that would have been fatal elsewhere in the world.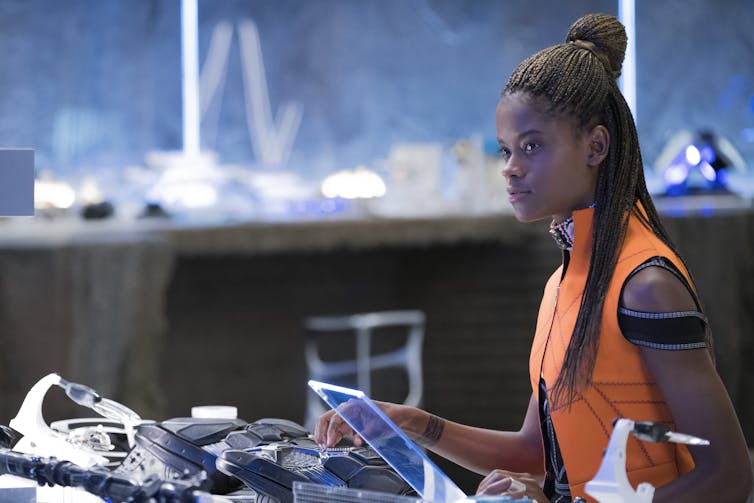 If They Can Do It, Then Why Not Me?
As a scientist who cares about inspiring more people – including underrepresented minorities and women – to engage with science, I think that showing a little of this scientific landscape in "Black Panther" potentially amplifies the movie's cultural impact.
Vast audiences see black heroes – both men and women – using their scientific ability to solve problems and make their way in the world, at an unrivaled level. Research has shown that such representation can have a positive effect on the interests, outlook and career trajectories of viewers.
Improving science education for all is a core endeavor in a nation's competitiveness and overall health, but outcomes are limited if people aren't inspired to take an interest in science in the first place. There simply are not enough images of black scientists – male or female – in our media and entertainment to help inspire. Many people from underrepresented groups end up genuinely believing that scientific investigation is not a career path open to them.
Moreover, many people still see the dedication and study needed to excel in science as "nerdy." A cultural injection of Black Panther heroics helps continue to erode the crumbling tropes that science is only for white men or reserved for people with a special "science gene."
The huge widespread success of the "Black Panther" movie, showcasing T'Challa, Shuri and other Wakandans as highly accomplished scientists, remains one of the most significant boosts for science engagement in recent times.
Netflix to Start Charging Extra for Password Sharing
Netflix has always made it easy for people who live together to share their Netflix account, through features such as separate profiles and multiple streams in their Standard and Premium plans. While these have been hugely popular, they have also created some confusion about when and how Netflix can be shared. As a result, says Netflix, accounts are being shared between households impacting the company's ability to invest in new TV and films for its members.
So for the last year, the company has been working on ways to enable members who share outside their household to do so easily and securely, while also paying a bit more. And over the next few weeks, Netflix plans to launch and test two new features for its members in Chile, Costa Rica, and Peru:
Add an Extra Member: Members on Netflix Standard and Premium plans will be able to add sub-accounts for up to two people they don't live with – each with their own profile, personalised recommendations, login, and password – at a lower price: 2,380 CLP in Chile, 2.99 USD in Costa Rica, and 7.9 PEN in Peru.
Transfer Profile to a New Account: Members on Netflix Basic, Standard, and Premium plans can enable people who share their account to transfer profile information either to a new account or an Extra Member sub-account – keeping the viewing history, My List, and personalised recommendations.
"We recognize that people have many entertainment choices, so we want to ensure any new features are flexible and useful for members, whose subscriptions fund all our great TV and films. We'll be working to understand the utility of these two features for members in these three countries before making changes anywhere else in the world," the company said in a blog post.
UAE's First Off-Road and Adventure Park XQuarry to Open on Feb 5th in Mleiha
 Thrill-seekers and adventure lovers in the UAE can now look forward to a new address! The XQuarry Off-Road & Adventure Park located around Al Faya Mountain in the Mleiha desert in Sharjah is set to open for the public on February 5th and 6th, 2021 offering off-roading thrill, obstacle races, hikes, and remote- control cars, guaranteeing unbeatable fun, action, and adventure.
XQuarry Adventure Park, UAE's first Off-Road and Adventure Park caters to off-roaders and adventure -seekers with almost 15km of tracks, 20 custom- build off-roading obstacles, a dedicated obstacle running course, mountain bike trails, a remote-control car area as well as hiking trails
Spread across approximately a million square metres of an old cement quarry, XQuarry offers a range of adventurous and fun activities for people of all ages and fitness levels, featuring Off -Roading, Obstacle Running, Mountain Biking, Hiking and Remote-Controlled Cars.
XQuarry Adventure Park provides the opportunity for all to escape the ordinary, explore thrilling and challenging activities and immerse themselves in a fun-filled day amidst magnificent desert scenario. The focus of the park is to provide outdoor training and education for people to learn and master their skills to act safe and responsible in the outdoors.
The XQuarry Off-Road and Adventure Park have been created in close co-operation and strategic partnership with Mleiha and Sharjah Investment and Development Authority – Shurooq (Sharjah Government). Ahmed Obaid Al Qaseer, Chief Operating Officer, Sharjah Investment and Development Authority (Shurooq) said, "We are happy to partner with XQuarry in launching UAE's first Off-Road and Adventure Park in Sharjah. Mleiha, home to rich history and landscapes, is already well-known among travellers for the diverse desert experiences. The new adventure park, being first of its kind in the UAE, will provide a set of completely different experiences for off-roading enthusiasts and adventure lovers and will give more reasons to explore Sharjah's central region."
Saoud Al Kaabi, Director and Partner, XQuarry Off-Road and Adventure Park said, "I love the silence and tranquility of the desert and mountains especially after busy days on film sets or events. It's important for me to share the beauty of my home country with other people and especially, get the younger generation out in nature to explore and experience adventures in a safe environment. XQuarry is just a step in that direction."
Daniel Birkhofer, Managing Partner, XQuarry Off-Road and Adventure Park said, "We want to help people develop their off-roading skills and technical knowledge to make them better drivers. This applies also to the other activities we offer – whether you experience alone, in groups or with one of our guides does not matter, you will improve your skills and experience fun with new adventures. We are happy that our partners, Sharjah Government and Sharjah Investment and Development Agency (Shurooq) have been highly supportive in helping us materialise this venture, without them this project would not be possible."
THE OFF- ROADERS can find approx. 15km of off-roading tracks requiring different skill levels as well as technical modifications on the vehicle. The tracks mostly made of gravel and rocks and a mud pit, come with several obstacles for added fun and adventure. Since most of the impressive dunes in the Northern Emirates are just outside the park, visitors can take advantage of the opportunity to combine a desert drive with a park visit. Drive experiences with rented 4×4 vehicles at XQuarry will be available in the second phase of the park opening.
OBSTACLE RUNNING at XQuarry is the most amazing and challenging permanent obstacle course in the UAE. Approximately 2km of running distance filled with different obstacles await the adrenaline junkies and if this is not enough, trail and ultra-runners can extend their running distance by including the hiking trails. The obstacles include climbing, jumping, crawling, swinging, balancing and voila, you might even get wet!
MOUNTAIN BIKING (MTB) at XQuarry is the closest mountain cycling trail to the big cities reachable in less than an hour. There are single trails as well as MTB obstacle trail and what's more, you can extend the trails outside the park which go beyond 10km. Enjoy a fun ride up and down small hills or meander through the steep curves and bumps to add to the thrill and fun. Rental bikes are expected to be available soon.
HIKING TRAILS abound for thrill- seekers and families with breath- taking panoramic views of the desert. Short family-friendly loops are available for beginners, while the more daring hikers can scramble through the rocky hurdles and cliffs to reach the mountain top.
REMOTE – CONTROL CARS (RC) are another highlight of the park with approximately 500m of custom-built RC tracks along with dedicated shaded areas for the operators and spectators to overlook the track. Additionally, there are race tracks with curves and jumps to compete for the fasted lap and those seeking technical challenges can enjoy the RC Obstacle Track which shall be available in near future.
Full Box Sets and All-Time Favourites Are Available on STARZPLAY
The entertainment fiesta never stops on STARZPLAY, the leading subscription video on demand (SVOD) service in the MENA region, which continues to provide its million-plus subscribers with premium content. With people spending more time at home now, this is the perfect opportunity to binge-watch your favourite shows. From full box sets of the best shows to the latest must-watch Hollywood blockbusters as well as continuing hit titles, there is something for everyone.
Watch the cult classic sitcom, The Big Bang Theory, which remains a top choice for comedy fans, and especially popular among STARZPLAY subscribers, who had the chance of watching the series finale on the platform at the same time it aired in the US last May. So, it may be time for fans to re-visit their favorite scientist pals (and Penny!) and enjoy all 12 seasons of the Golden Globe and Emmy awards winning series, only on STARZPLAY.
STARZPLAY is also home to the much-loved American sitcom The Office, the mockumentary on a group of typical office workers where the workday consists of ego clashes, inappropriate behavior, and boredom. Fans can watch all the nine-seasons of the hilarious documentary-style TV series that tells stories about contemporary work culture in the most hysterical way.
Fans of the epic historical drama Vikings can watch every new episode of the sixth and final season of the epic action-adventure, that has turned into a worldwide phenomenon, exclusively on STARZPLAY. And for those who are yet to delve into the show's fascinating world, all previous 5 seasons are currently available on the platform.
While the world celebrated the 25th anniversary of the launch of Friends last year, the show remains one of the most beloved and popular sitcoms in TV history, STARZPLAY subscribers can binge-watch all ten seasons of the classic comedy through the platform anytime, anywhere and from any device, and share this joyful experience with their own friends.
Fans of the American television medical drama Grey's Anatomy can watch every new episode of the fifteenth season starting March 28 on STARZPLAY. Watch how surgical interns and their supervisors embark on a medical journey where they become part of heart-wrenching stories and make life-changing decisions in order to become the finest doctors.
Available in 20 countries across the Middle East, North Africa, and Pakistan, with more than 10,000 hours of content including premium movies, exclusive and Arabic series, STARZPLAY has also secured its place as the number one player in the MENA region.